Yummy
Description
Yummy is an extension for Firefox Mobile (Fennec) wich add Feed support (RSS, Atom,...).
Feed Viewer, Feed discovery in the visited pages, possibilities to subscribe to them as Live Bookmarks, and visualize updated Feed in your Bookmarks (bold) and their number.
Yummy is one of the 10 winners of the Firefox Mobile Addons Challenge :) !
Licence
MPL 1.1 / GPL 2.0 / LGPL 2.1
(yes, it's free and open source)
Vidéo
Here's a little screencast:
direct links to the video:
Installation
version for Firefox Mobile 1.1:
version for Firefox Mobile 1.0 :
Alternately you can install Yummy from its page on addons.mozilla.org
Don't hesitate to post any remarks, bug report, or anything else, in my blog, in this topic.
Screenshots
Feed discovery
Feed Viewer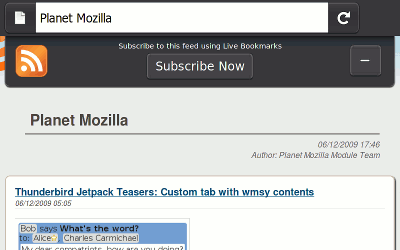 Live Bookmarks
new entries are bold, and their number are displayed
changelog
1.1 :
Unread feed entries were not listed in bold in the Bookmarks.
ca locale added.
1.1b1 :
Adaptations For Firefox Mobile 1.1.
1.0 :
Locales pl and zh-CN added.
1.0b7 :
1.0b6 introduce a new bug, when Bookmarks panel is close, sometimes the quit button don't reappear.
1.0b6 :
In some case the Bookmarks were not displayed.
1.0b5 :
A minor bug fixed, wich displayed an error in the console.
1.0b4 :
Add a default title in the Feed Discovery when the Feed have none.
When a Feed is discovered, the icon in background should be behind the Identity button.
1.0b3 :
Compliance with recent implementations of Weave in Fennec (yummy becames buggy if Weave was used at least once).
Add locales de-DE and pt-BR. Thank you babelzilla ;)
1.0b2 :
Add a button in the bookmarks panel, wich allow to display only feeds and their entries.
1.0b1 :